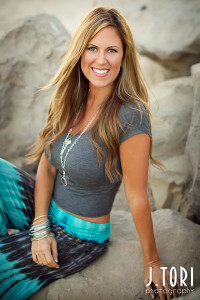 THE BACKSTORY: Julie Teron-Wellness Enthusiast, CEO and Founder of The Sauna Studio is no stranger to the world of health and fitness. A life-long resident of Ventura County, California, she was raised in an active family that thrived on healthy living. Julie's love of health, combined with her vibrant personality led her to an exciting career in the public eye as a Professional NFL cheerleader, certified fitness instructor and dance choreographer. When Julie traded the public eye for the private life of her family, she added dedicated mother and wife to her repertoire. The balancing act of raising a family and having a lucrative career in outside sales is where her story begins.
THE TIPPING POINT: It appeared as if Julie had it all and was living the American dream: an adorable family, a strong relationship with the Almighty, a fabulous home life in a dreamy, laidback beach town, and a successful position as an account executive. Behind these large territories and large quotas however, was one exhausted woman. It started with a little stress and then snowballed into a debilitating brew of fatigue, insomnia, sinusitis, anxiety, headaches, severe chronic stress, and that sneaky little thing that many people know all too well-weight gain.
THE TRANSFORMATION: After taking a leave of absence from her high-stress position, Julie eagerly researched and sought out natural alternatives to her problems, knowing that side-effect-ridden toxic medications were not the way to go for her. During this search, she stumbled upon a gem called Infrared Sauna Therapy: an all in one solution with major healing benefits that could be felt instantly in one 40 minute session. Once Julie began using Infrared, her health took a drastic and beautiful turn. With a combination of Infrared Sauna Therapy, a clean plant-based diet, and exercise, she shed over 20 pounds; as well as the baggage that went along with chronic stress and the job that was causing it.
THE IDEA: Glowing from the positive effects of Infrared, Julie developed a vision for sharing this healing method with her community. "With so many toxins, stress, disease and chronic ailments in our lives, I felt called to bring a game-changing alternative to my community." With experts like Dr. Axe endorsing infrared saunas, Julie knew her faith-infused intuition was spot-on.
THE LEAP: Inspired, educated, and full of passion, Julie decided to enroll in a self-employment training program through Women's Economic Ventures (WEV), from which she graduated with honors. Equipped with the education and faith needed to move forward, Julie started creating The Sauna Studio. "God just kept opening the doors and I kept walking through them and with complete peace, The Sauna Studio was born."
THE PURPOSE: Julie's desire is for her clients to wake up every day feeling lighter, brighter and more alive than they did the day before. "Infrared Sauna Therapy is the best gift that you can give yourself or loved one." Whether you are a fierce, wellness warrior or someone who is just getting their feet wet, Julie will walk you through your journey with patience, compassion, and encouragement. Serving others is her passion and purpose driven mission.
THE PASSION: When Julie is taking time to enjoy the other passions in her life, you can find her hiking with her family, taking in the beach life with an inspiring book, working some serious muscle in Gyrotonic class, and studying her college courses; It is never too late!
THE CONNECTION: Julie would love to connect with you! Be the first to hear about specials and the latest ultra-empowering information through The Sauna Studio newsletter. Make the most of your daily Facebook and Instagram break with encouraging tips and inspiration from The Sauna Studio fan page as well as her new personal Instagram "Faith_Filled_Wellness". If Instagram and Facebook aren't your thing, give Julie a ring, she would be thrilled to hear from you and tell you more about our other complementary services besides Infrared Sauns; Salt Room, Cryotherapy, Celluma, Massage Therapy and Holistic Skin Care.
It's time to ignite your wellness journey and join the Infrared Revolution…for a long, pure, beautiful life.
---
The Sauna Studio is a Green Certified Business –
We care about the health of our clients and the health of the planet. We use reusable items like towels, robes, cups and plate ware, instead of disposables, purchase 100% renewable energy, and use environmentally responsible cleaning products. In addition, we have light sensors in our bathrooms and use LED energy efficient light bulbs throughout the facilities.